Tamilnadu Asteroid Search Campaign-2023
The International Astronomical Search collaboration (IASC) conducts a citizen science program every year that enables the citizen scientists to make astronomical discoveries and observations. Tamil Nadu asteroid search campaign is a citizen science program carried out at the initiative of Open space foundation (OSF) which is conducted by IASC together with Pan-starrs observatory, Hawaii, Catalina sky survey, NASA and Hardin Simmons university, Texas.
This year, 20 teams from schools and colleges across the state will be selected for the Tamil Nadu asteroid search campaign 2023, in which the students will carry out asteroid hunting using the image sets captured by the Pan-starrs telescope employing Astrometrica software. The teams will be trained and assisted throughout the campaign by OSF.
On the completion of the campaign, the students will be honoured with certificates from IASC and Citizen scientist award from OSF. The teams will also get an opportunity to name the identified asteroid on its successful confirmation by IASC.
The registration for the Tamil Nadu asteroid search campaign 2023 begins from 05th June 2023 and ends on 30th June 2023. One team from an institution can take part, registrations can be done through the following link.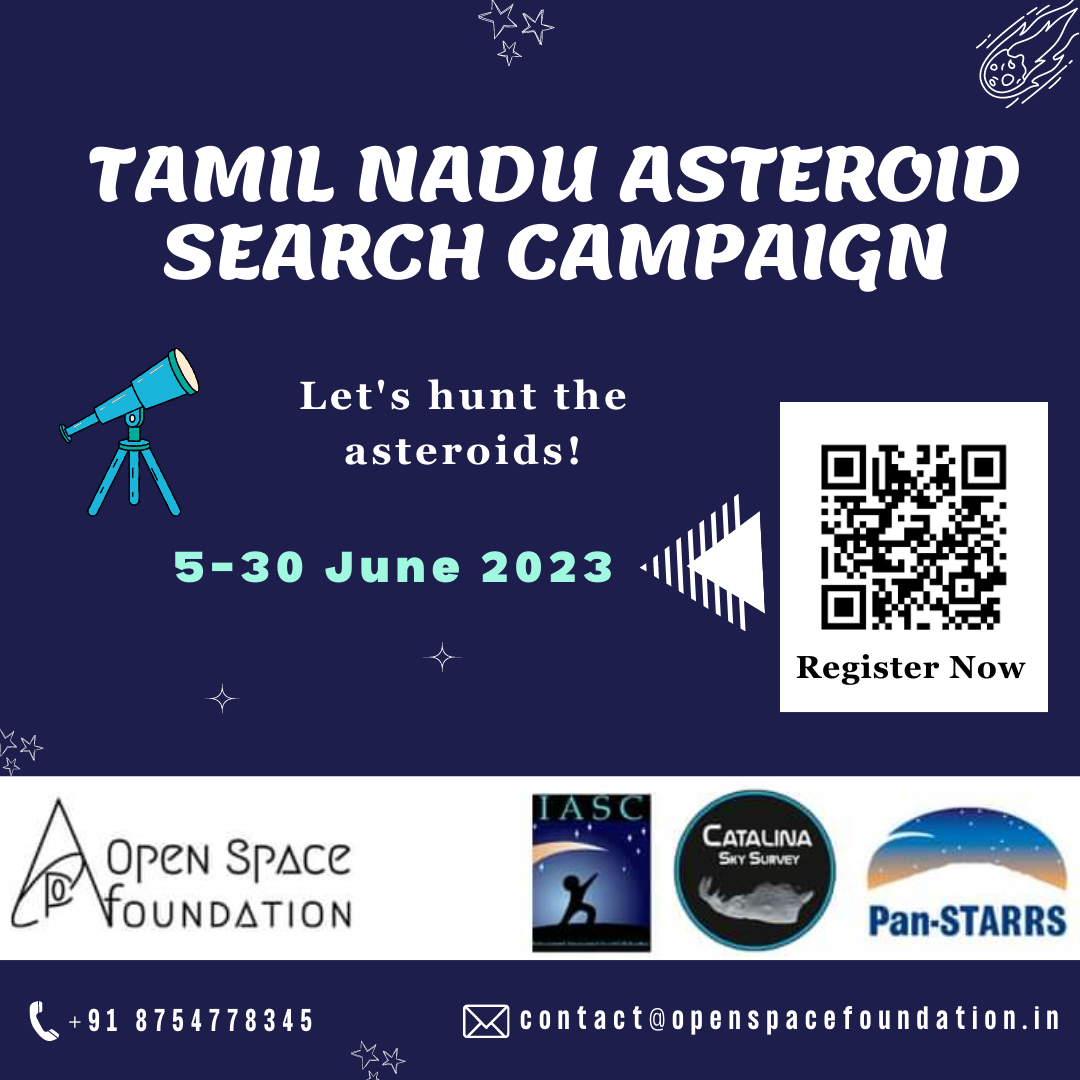 General Instructions:
A team can consist maximum of 5 students from the same institution
The programme contains multiple level trainings & practices. Either the guide teacher or the team leader should participate in all the training & practice sessions, and they need to ensure that all the participants are having enough training & practice to participate in the campaign.
To analyse the image sets using the Astrometrica software, the computer loaded windows operating system with an internet connection is required.
If the teams are not participating in any training & practice sessions, they will be automatically removed from the campaign.
Link for registration: https://forms.gle/LCXHBuX845JxY1sB7